This time our adventures took us to Southeast Asia, nearly at the other side of the world. For those who have not heard about Malaysia, it is a country next to Thailand and connected by a bridge and a causeway to Singapore. When we first landed there I immediately knew that it is a completely different world as we know it from Europe and the charm of the county instantly blew me away. The Malaysians are very friendly, polite, tolerant and welcoming. They will do everything you want, even if you don't ask them for anything. Furthermore, it is a very cheap country; there you have for example the world's cheapest 5-star hotels and we paid 5€ for the meals for the entire day for two people. Malaysia's climate has been categorised as being hot and humid throughout the year. It's really warm and sunny all day long; so do not forget to bring enough of your sun blocker.
"Walking the Malaysian's capital, Kuala Lumpur (KL) reveals the country's heart". In KL we stayed at a hotel named Pullman Kuala Lumpur City Centre Hotel, a luxury five star hotel.
The hotel is situated in the heart of a metropolis, so it is very central.
---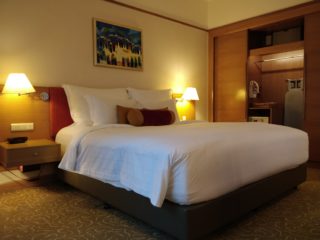 ---
KL is a city to be best explored on foot because you will always see something you have never expected to see, something that will impress you and by taking a taxi for instance you will not be able to spot these surprises.
The capital staggered me at the beginning because I never expected Malaysia to be a Muslim country. When we arrived at our hotel, I first noticed the numerous burka wearing women. So if you want to visit some touristic attractions as a woman, you should be aware of the fact that you have for example to cover your legs, as it is the case for the Batu Caves.
The way people live there was something I have never seen before. In Europe countries are very developed, whereas in Malaysia it's not the case. You might see at some points all the rubbish, Malaysians washing up the dishes on the street with a hose and without wearing shoes, discover body parts of animals when you walk through the market; so you will notice very quickly the lack of hygiene.
---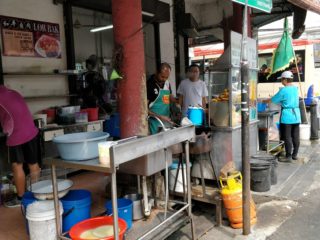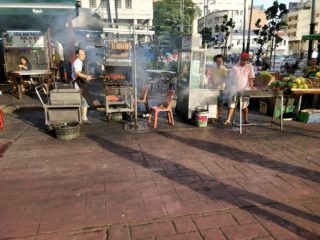 ---
We managed to discover KL in three days, so here you have my mini guide. We arrived there in the afternoon and just walked a bit through the capital to have an overview of how to organize the next few days. The same day we directly decided to eat at a restaurant, near the hotel, that was full with local people. The restaurant is named Hakka Restaurant. We were the only tourists there and the first meal was already a little overwhelming for me because they served us a plate full of grilled insects. I have to admit that it was not the worst thing I have ever eaten but I would not eat it again.
The next day we visited the Petronas Twin Towers , an iconic symbol of Malaysia's futuristic developments, and the Menara KL Tower. You can reach the towers on foot without major difficulties and by walking to the different spots keep your eyes open to undeck new things. I assure you that every ten footsteps you will stop for a moment because you have seen something interesting.
---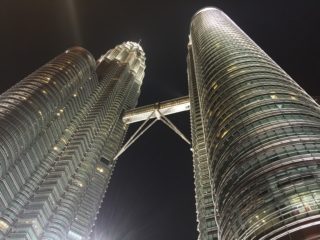 ---
Day 2 we went to the Batu Caves. To get there you have no other choice than taking a taxi. It is a 100-year-old temple where the interior limestone formations are supposed to be 400 million years old. In front of the temple you can see a statue of Lord Muruga, which is the tallest statue of a Hindu deity in Malaysia. Furthermore, you have 272 steps to climb before you can even reach the inside with the main caves.
---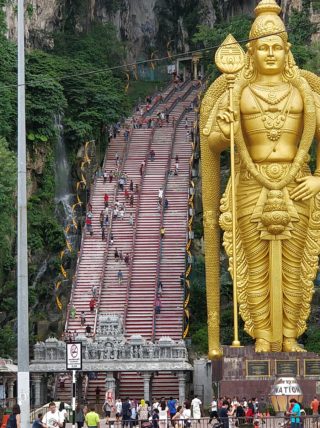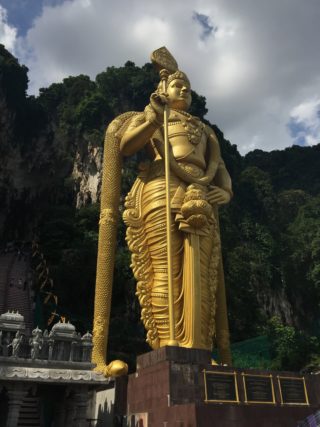 ---
The same day we also visited China Town which can be found on the Petaling Street. There you can buy a bit of everything, but be aware: this spot is always full of people, but very nice to see. Dinnertime approached, we visited Jalan Alor, a street filled with Asian delicacies and street food. It is like an open-air restaurant, very impressive and there you get very good food. What you should try are the juices you get at every corner. They are freshly made and very tasty, but the most important: they are made from local fruit.
---
---
The last day in KL we decided to discover a few shopping malls we picked out, before we even arrived in Malaysia. The shopping centres are very huge and impressive. Some of them have right up to 8 floors with over 400 stores. Recommended shopping malls are Pavilion Kuala Lumpur Shopping Mall, Suria KLLC, Plaza Low Yat Shopping Centre and Berjaya Times Square Shopping Mall with a rollercoaster in it. You will notice very quickly that visiting a shopping mall will take a lot of time, but it is worth it.
As you can see Kuala Lumpur offers you a lot to see and I can just highly recommend the city. It is something completely different, something I have never seen before. We discovered a lot in these three days and I have to say that I felt really safe during our little trip in the capital. I find the city to be an exciting and impressive place. So if you want to go to Malaysia one day and visit his capital, enjoy your trip, explore as much as you can AND on foot, but most importantly: eat until you explode!