Mauritius, the island of one's dreams in the Indian Ocean, is known for its turquoise blue ocean and the wonderful white beaches and its top hotels. An island of volcanic origin, between 'La Réunion' and the 'Seychelles', east of Madagascar. One speaks of a tropical island as in a storybook.
The island isn't very rich in species, but there are lots of endemites, like for example the dodo or the Mauritian tomb bat.
Our trip took place in April 2015, a haunting holiday. We stayed at a hotel called 'Maritim Resort & Spa Mauritius', a five star hotel. The hotel by itself is beauteous, it gives you the impression that you are in the heart of a tropical forest. The beach was the soit-disant turtle bay. Concerning the kitchen I would recommend you to eat outside the hotel because the resort doesn't have the most amazing places to dine.
It was a relaxing two-week holiday. The blue and clear ocean really impressed me, all the fish you could see and the wonderful seashells which are spread over the entire beach. It is like a paradise, especially for aquanauts, surfers, sailers and also for mountain hikers.
---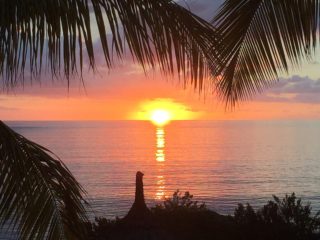 ---
An activity we did was the Solar Seawalk in Grand Bay. It is an undersea walk where you can explore the beautiful underwater world, feed the fish and just enjoy the view. Most people know diving, but what if I tell you that you can also stroll under the sea level just as you do it on land. Therefore you are equipped with a helmet which is supplied all the time with fresh air. It's also a great activity for the little ones because even if you cannot swim you are allowed to go down.
Altogether it was a nice trip. On the one hand, Mauritius offers you a lot to discover and lots of activities but on the other hand it is also a nice place to relax and to recover. I would suggest you to combine the two aspects to give variety to your journey and I'm sure that it will be an unforgettable trip.